Volunteers in the Nature Park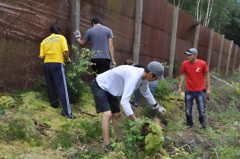 Doing something meaningful, meeting new people, having fun, expanding knowledge and skills, actively helping to shape the world and the environment: if that's what you want, then you're in the right place – regardless of age and qualifications.
In the 'Thuringian Slate Mountains/Upper Saale' Nature Park, volunteers are often in action: as nature and landscape guides, as biotope caretakers in valuable ecosystems, as well as translators, designers, amateur photographers, ideas people, etc.
In order for a nature park to be a nature park, it requires the commitment of many, including volunteers. Volunteering doesn't just mean working for free, it means furthering your own development. Many volunteers have later become full-time employees...
Volunteers are sought in various areas at the Nature Park for our administration as well as for our partners.
Photographers
Biotope caretakers (in the months October to February)
Translators (German-English)
Nature Park ambassadors
Nature Park ideas people
Support in Plothen tourist information
Supervision of the Lehesten Nature Park information centre

Anybody who is interested can find more detailed descriptions here:
www.ehrensache-natur.de/einsatzstellen/einsatzstellen-suchen/?mparc=44