Recreation in or around the water - both are possible at the "Thuringian Sea"
Variations on the elements of forest, water and rock define the way the Saale River appears along its course. Both of the large reservoirs (Hohenwarte and Bleichloch) are also called 'Thuringian Sea'. At other points, the Saale has been able to retain its character as a river, and winds like a blue band around the mountains. The dry, warm climate and the partially bare rocks create living conditions for warmth-loving animal and plant species – and recreational spaces for hikers, water enthusiasts and sun-lovers. The sunny Saale valley, with its two large reservoirs known as the 'Thuringian Sea' and the blue band of the Saale that lies between them is a popular holiday and retreat area with many hiking trails and lookout points.
Simply move the cursor over the map and follow the information behind the landmarks and hiking trails of this natural space!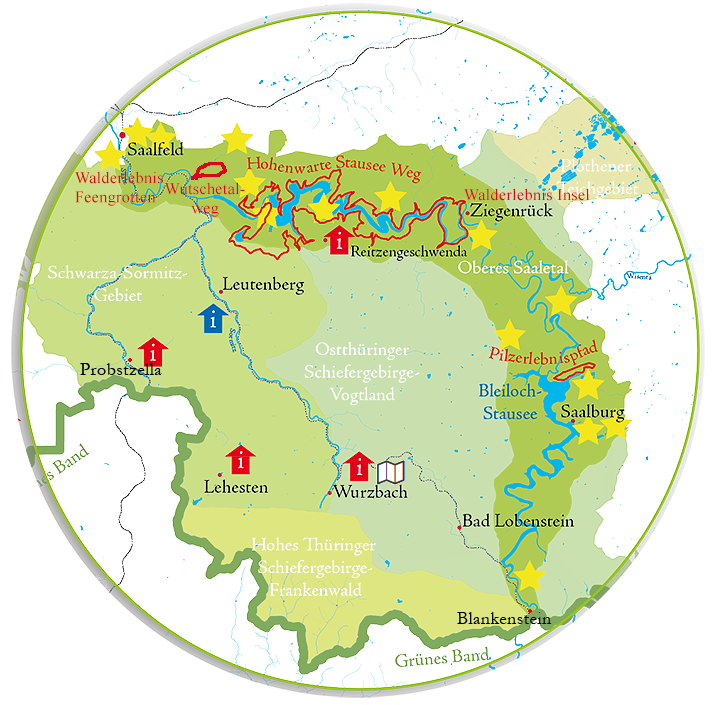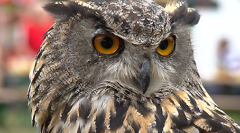 Special animal species:
fire salamanders, dippers, Eurasian eagle owls, kestrels
Special plants:
rare ferns, a wealth of mushrooms, the so-called 'Mauerfugen-Gesellschaften' (rock seam communities)
Landscape profile of the Federal Office for Nature Conservation
The 'Upper Saale Valley' landscape is a deeply-cut valley, filled for the most part with dams and compensating reservoirs, cut about 200m deep into the plateau of the Thuringian Slate Mountains. It lies within the landscape of the eastern Thuringian Vogtland Plateau. The Upper Saale Valley begins south-east of Saalfeld, follows the course of the Saale River and ends at Hof in Bavaria. Only a small portion of the landscape is used for farming, and a small proportion of that as pastureland. A larger proportion of the area is accounted for by the bodies of water (dams and compensating reservoirs). They serve in large part as recreational areas. Within this area lie the 'Upper Saale' reserve and part of the 'East Thuringian Slate Mountains and Franconian Forest' reserve.