Come and see the Thuringian land of a thousand ponds!
Several hundred ponds, surrounded by forest, meadows and fields in a gently undulating landscape - this is the Thuringian 'Land of a Thousand Ponds'. As far back as the Middle Ages, monks created the ponds for fish farming by using the massive clay layer of the basins and the frequent rainfall. The management of the ponds has continued to this day. The Thuringian 'land of a thousand ponds' in the region around Plothen is home to many species of waterfowl. This water-rich area is an important resting place for migratory birds. It represents a special feature of the Thuringian landscape, offers many hiking and recreation opportunities and is an El Dorado for those interested in ornithology.
Simply move the cursor over the map and follow the information behind the landmarks and hiking trails of this natural space!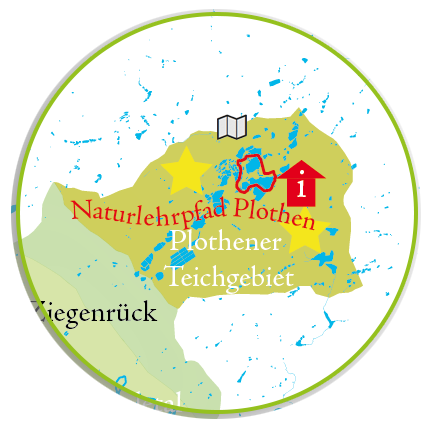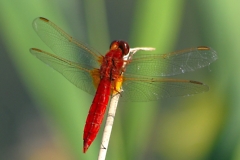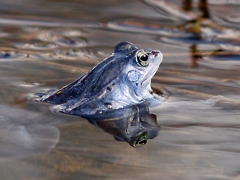 Special animal species:
otters, scarlet dragonflies, crested newts, osprey and numerous migratory birds
Special plants:
highest altitude reeds in the Nature Park, alder and ash swamp forests, extensive rush and sedge reeds, diverse pond weed, orchids and stoneworts
Landscape profile
The Dreba-Plothener pond area is a gently undulating, pond-covered plateau on the northern slope of the eastern Thuringian Slate Mountains at an altitude of about 518m above sea level. Large parts of the pond area are located in the northwest of the Nature Park between Schleiz, Ziegenrück and Poessneck. The few larger forest areas of the mainly agricultural landscape are dominated by spruce trees. Together with the intensive management of a large number of ponds, agriculture is predominant. The landscape also has great significance in the context of local recreation.
Characteristic habitats include wetlands, parts of which are used extensively, as well as more or less heavily silted fish ponds, various types of grassland and the remains of mixed deciduous forests. The EU 'Plothener Teiche' bird sanctuary protects almost the entirety of this area of the Nature Park.