There is hardly a more diverse nature park in Germany!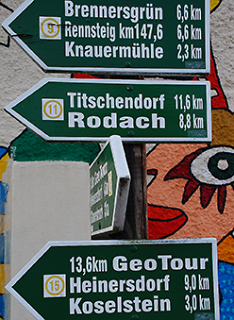 With 830 square kilometres, the area of the Thuringian Slate Mountains/Upper Saale River Nature Park is an average size compared to other nature parks. However, with five very different natural areas, it is home to enormous geological and biodiversity, something which also accommodates a variety of human needs. Lovers of nature, adventurers and cultural enthusiasts can get their money's worth just as much as those who are health-conscious or looking for some peace and tranquillity.

The Thuringian Slate Mountains/Upper Saale River Nature Park forms part of the 'National Natural Landscapes'. All German national parks, nature parks and biosphere reserves are united under this umbrella, in order to jointly promote gentle and sustainable nature tourism.

Of course, our Nature Park is not an island, but rather connected to the surrounding landscapes of the nature parks of the Franconian Forest to the south and the Thuringian Forest to the west. Connecting elements include the Rennsteig as the most well-known Thuringian hiking trail, the 'Green Belt' along the former internal German border and the recently established 'Schieferland' Geopark.