In the 'Naturpark-Haus' you will find exhibitions on the Nature Park and a treasure trove of glittering minerals. An 'earth history adventure' awaits you in the Geopark exhibition, which will take you on a journey far back into the Earth's history.
Surrounding the Naturpark-Haus are artistically designed Nature Park Worlds that guide you through a varied landscape of streams and brooks along the Sormitzweg. Children's playgrounds and interactive elements entertain both young and old, and facilitate an interaction with nature in a playful way. So why not come along with the whole family!
The team at the 'Naturpark-Haus' will be happy to be your contact point for any inquiries about the Nature Park and will be there to help you.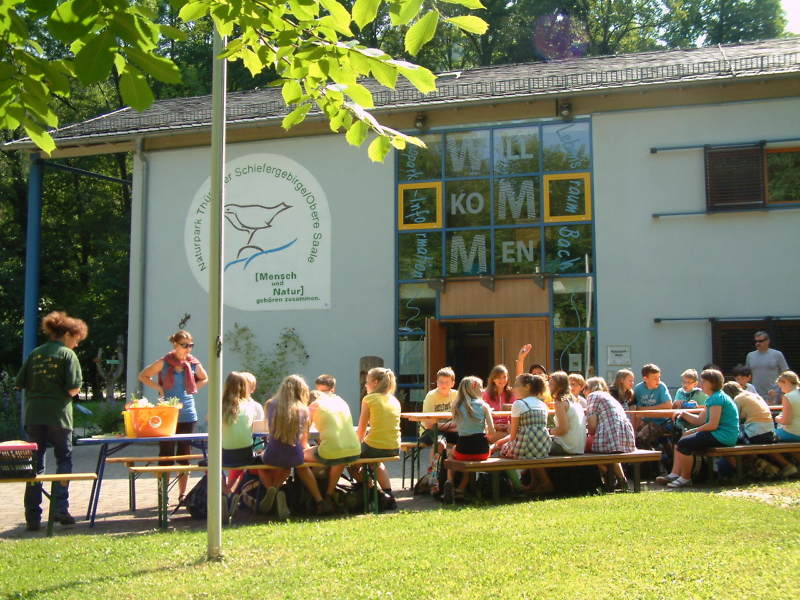 | | | | |
| --- | --- | --- | --- |
| Office manager | Frau Christine Kober | Tel. 0361/57 392 5091 | |
| Deputy office manager | Herr Manfred Klöppel | Tel. 0361/57 392 5093 | |
| Secretary | Frau Franziska Jacob | Tel. 0361/57 392 5090 | |
Opening times

Mon-Thu: 8.00am to 3.30pm
Fri: 8.00am to 1.00pm

From May to September also
Sun: 2pm to 6pm

Address

Naturpark-Haus und -verwaltung
Wurzbacher Straße 16
07338 Leutenberg

Please contact us!

Tel: 0361/57 392 5090
Fax: 0361/57 392 5099

Write to us directly here »